* 1) Material:unalloy titanium.
* 2) Grade: Gr1.
* 3) Feature: high strength, excellent corrosive ,acid and alkali resistance.
Titanium vibration head---the description of product.
Explanation of friendly and cooperation.
a) Quotation will be according to the product of specifications,grade, standard, please give me the detail of your order if you are convenient.
b) If you are interest in our titanium product ,but you don't kown more about the produtc ,you can tell me ,I will be very plesaed to help you resolve.
c) Our company's bussiness are mainly distributed in USA, Canada, Europe,( UK, Ireland, Spain, Turkey, Italy, Germany, Russia, etc.
We not only received numerous national business partners,but also make friends from a lot from countries, our business is not purely built on the basis of interests and more is built on friendship.
The description of product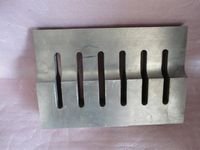 Advantage:
titanium as a popular material around the world ,for its low density and high strength. The two factor of this material is the main factor ,which arouse more indudtry attention.besides, it have the feature of high temperature resistance and good antiweathering.
1) Product name: titanium vibration head.
2) Material: unalloy titanium.
3) Grade: Gr1.
4) Specification: provide various of product that according to customers' demands.
5) Feature: low density, high strengh, excellent corrosive resistance.
6) Application: specially used for ultrasonic clearing machine.
7) Certification: provide the third-part inspection testing report. Such as the physical and chemical testing center of BaoTi.
8) After-sales service: if the quatity and quality is not the same with your damands,please tell us ,we will try own best to resolve it and give you the satisfying reply.
table 1:
Mechanical properties
| | | | |
| --- | --- | --- | --- |
| Grade | condition | Tensile strength N/mm2 | Yield strength N/mm2 |
| Gr1 | M | 280~420 | >170 |
| Gr2 | M | 370~530 | >250 |
| Gr3 | M | 440~620 | >320 |